Style. Color. Fabric. Fashion. At Art Van, We've Got The Look! Our team of fashion and furniture 'Insiders' take you behind the scenes for the greatest trends, décor and design tips. Looking for what's new and what's next? It's here!
From bedroom collections to dining room sets to amazingly comfortable sofas, our customers vote for their Art Van Furniture favorites every day with their purchases. We've tallied the groups that are delivered to customers' homes most often, and we're ready to announce our Oscar-worthy furniture!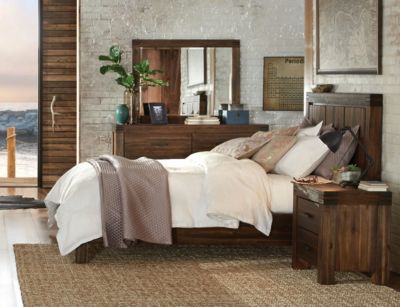 Chicest Master Bedroom
In the Chicest Master Bedroom category, the Oscar goes to the Meadowbrook Collection. Its casual look gives your room the feeling of effortless style. And the rich grain of the solid acacia wood brings a trendy organic urban vibe. This collection is so Hollywood A-list!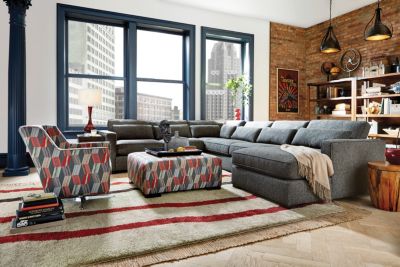 Most Comfortable Sofa
In the Most Comfortable Sofa category, the Oscar goes to the Ambassador Collection by Detroit Sofa Co. With premium construction and 10-inch cushions that feature gel-infused memory form, VIP parking is right in your living room. And you get to direct with a choice of 28 body fabrics and 34 accent fabrics customized at no extra charge.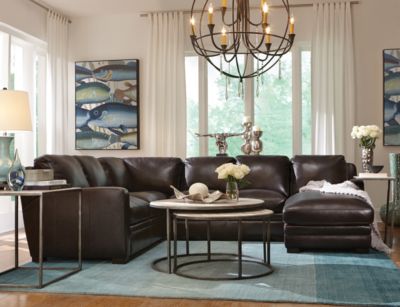 Most Luxurious Leather
In the Most Luxurious Leather category, the Oscar goes to the Theory Collection. Upholstered in rich 100% genuine leather, this sleek and stylish group features feather-blend seating for luxurious comfort. Produce the best arrangement with sectional pieces or a conventional sofa.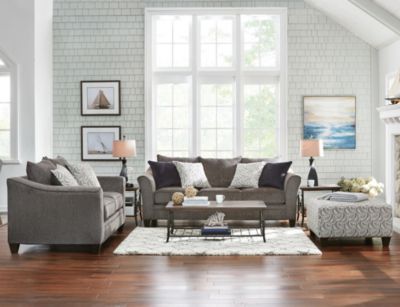 Best Starter Sofa
In the Best Starter Sofa category, the Oscar goes to the Albany Sofa. With four gorgeous colors that include truffle, chestnut, pewter and slate, no one will know this beauty was a bargain. Its classic design turns your living room into an inviting atmosphere for schmoozing with the cast.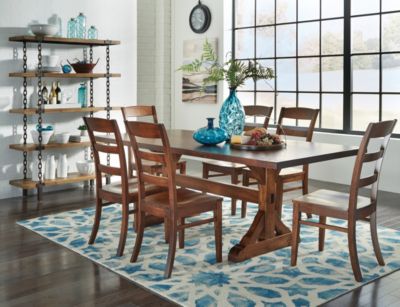 Best Family Dining Setting
When it comes to the place where families want to gather most, the Oscar goes to the Benton Collection. This gorgeous set is Made in the USA of solid maple, with a lightly distressed top that gives your dining room an urban twist. Its heirloom quality guarantees that family dinners will turn into long-running sequels.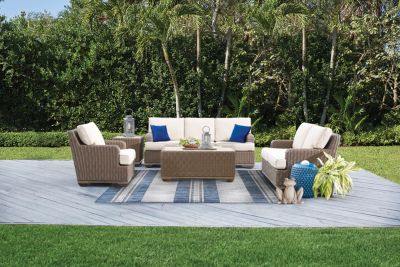 Most Stylish Outdoor Seating
For the Most Stylish Outdoor Seating category, the Oscar goes to the Brookstone Collection. Its striking curves and crisp white cushions bring California flair to your back yard patio or deck. And the casual tone will quickly become a favorite setting for your starring role at home.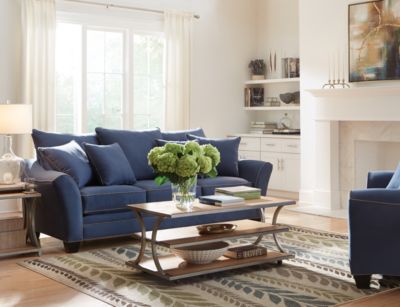 People's Choice Award
There are some furniture collections that everyone loves and in the People's Choice category, the Oscar goes to the Dillon Sofa from Suede So Soft. Comfortable? Yes. Stylish? For sure. Chic and Casual? This sofa has it all, and that's why everyone loves it. Upholstered in soft and durable microfiber, you get to choose from 18 (living) colors.
Want to vote next year? Visit your local Art Van Furniture Showroom and pick a winner!
While President's Day is over, we're still celebrating with presidential trivia. Here are five fun facts about the White House from Legends of America to amuse you.
1. Theodore Roosevelt was the first president to call his residence in Washington, D.C. the "White House." Prior to his term, it had been called the Executive Mansion or the President's House.
2. Harry S. Truman's mother, a Confederate sympathizer, refused to sleep in Lincoln's bed during a White House visit.
3. Millard Fillmore installed the first bathtub and kitchen stove in the White House.
4. When Millard Fillmore moved into the White House, it didn't have a Bible. He and his wife, Abigail, installed the first library. 
5. During Woodrow Wilson's presidency a flock of sheep was raised on the White House lawn. The wool was used to raise money for the Red Cross during World War.
After the Inauguration, the Obamas left the White House and moved into a home just a short drive away in the Kalorama neighborhood. They plan to stay in DC until their youngest daughter, Sasha, finishes high school. The 8,200-square-foot home boasts eight bedrooms, and the Obama's neighbors include Ivanka Trump and Jeff Bezos.
While we're sure they'll give it their own unique touches, the home's classic style was surely a factor in their choice. If you like the design, we've got the look
The soothing neutral palette of the living room is anchored with a beautiful grey sofa. Our Hayden Sofa has classic tailored lines and a modern feel. The toss pillows continue the modern feel, with a square shape and simple tufting.
Adding a second color is a pair of leather accent chairs, with simple, sleek lines and a contrasting wood frame. The Obama's chairs are black and white, while our Verona Accent Chairs bring a bit of color. From the Roma Collection, these pieces can be customized for free if you wish to stick to the palette of our inspiration room.
The Obama's living room has a glass cocktail table, which continues the airy feel in the spacious room. Our Soho Rectangular Cocktail Table would be a great choice. The metal base adds a reflective quality, while the modern design complements the room décor.
Adding interest to the modern room is a unique side table, and our Camilla Chairside Table is a great option. The brown, grey and blue painted finish offers a subtle touch of color, while the unique shape makes it feel like a piece of art.
On one wall, the Obama living room includes a dark sideboard for extra storage. Our Forest Wood Cabinet would be a great match for the modern furnishings. The sleek style has a decorative metal handle that adds contrast and interest, and the espresso finish looks perfect with our rich neutral palette.
On an opposite wall sits a sweet console chest, and our Chesapeake Console Table would be a great addition to your room. The distressed finish is a nice contrast to the sleek furnishings of the room, and the apothecary-style drawers bring a vintage touch.
Finally, the Obama's living room has a pair of unique lamps, with white bases and linen shades. Our Cadence Ceramic Table lamps would be the perfect match. The aged cream exterior offers a rustic touch, and the classic shade adds a transitional quality to the room.
What do you think of the Obama's new digs? Let us know in the comments below.
Politics aside, to become president you have to be an extraordinary and driven person. These traits often manifest in some unusual hobbies, impressive accomplishments and surprising talents. Here are some fun facts about our Presidents from Legends of America to share with friends.
1. George Washington was the only American president to be unanimously elected.
2. John F. Kennedy was the first president to hold a press conference on television.
3. The 1800 race between John Adams and Thomas Jefferson was the only election to be decided by the House of Representatives because there was a tie in the Electoral College.
4. John Adams and Thomas Jefferson both died on the 50th anniversary of the Declaration of Independence in 1826. Not knowing that Thomas Jefferson has already passed John Adams was quoted as saying "Jefferson survives," when he whispered his last words.      
5. William McKinley was the first president to campaign by telephone.
President's Day is the time to honor all U.S. presidents, past and present. It's also a three-day weekend for many of the nation's workers, and that has us celebrating the companies that make their products in America.
One of our favorite examples is L.J. Gascho. Renowned for its craftsmanship and quality, the Michigan-based furniture company makes some of the finest solid wood furniture in the world. Founder Lyle J. Gascho is a woodworker and fourth-generation chicken farmer who learned woodworking techniques from Amish and Mennonite craftsmen. With a passion for quality and detail, he started making furniture as a hobby.
Art Van Furniture's relationship with L.J. Gascho happened by chance in 1989. An executive and buyer were dining at a Mid-Michigan restaurant when they noticed the beauty of table. After getting the craftsman's name from the restaurant owner, the buyer contacted him and asked if he'd sell his pieces at our stores. That encounter helped turn Lyle's hobby into a thriving business, and 25 years later 115 employees carry on his vision and mission: "produce high quality furniture that will become heirlooms to be passed on from generation to generation."
A customer favorite, L.J. Gascho products are individually handcrafted. An assortment of in-stock pieces are available for immediate delivery, or you can place a custom order. Simply come into one of our showrooms, find your favorite piece, and select your wood, color and hardware. Your custom-made furnishing will be delivered in just weeks.
"We take pride in our work, and operate with honesty and integrity," says Brandon Yowler, director of marketing for L.J. Gascho. "We're not just making pieces of furniture, we're making products that are part of people's lives."
Everything is hand-made using solid red oak and maple woods.  Table slides are made with solid maple to add durability, and some are gear driven to make it easy for one person to operate. Pedestal feet include self-adjustable levelers. Round table rims and chair backs are made from solid woods and are steam bent.
The finishing process is also unique. Stains are hand rubbed to bring out the natural characteristics of the wood. The finish is done with Beshta-var, a catalyzed varnish that is resistant to substances including water, alcohol, warm dishes, and even nail polish remover. It is also resistant to marring and scratching.
The company is so remarkable that ABC World News featured Gascho's Anniversary dining room table in its first-ever 'Made in America' special. The piece had been designed for Art Van Furniture stores to celebrate 25 years of working together.
With L.J. Gascho, you not only get a beautiful piece of furniture, you get a chance to make a family memory that can last forever.
"One of our customers had been diagnosed with cancer," says Brandon. "He realized that life was short so he took his Gascho table, flipped it over and wrote a letter to his family. He shared seven things he had found to be true in life, and then he invited them to add their own wisdom and keep passing it on. Stories like that keep us going, and we're proud to offer heirloom-quality furniture."
Brandon says L.J. Gascho is committed to making products that are relevant for today's consumers. The company continues to launch new collections with pieces that include dining sets, entertainment centers, beds, dressers, chests, nightstands, end tables, cocktail tables, china cabinets, sofa tables and vanities. The new collections feature the company's solid-wood heirloom quality with looks that bridge traditional with more modern styling.
L.J. Gascho is a Made in America success story. Congratulations on a job well done!
From the energy of the grain to the richness of the finish, nothing warms up a home like wood. It's easy to add this element by bringing home wood furniture. Dining rooms, bedrooms, living rooms and kitchens, an abundance of options are available that will add character to your home.
It's important to know that there are many variables that go into the manufacture of wooden furniture, such as materials and workmanship, says Art Van Furniture Buyer Melinda Lehman.
"Art Van carries a wide variety of wood species including oak, cherry, maple, birch, pine and various hardwoods that are indigenous to countries where the product is manufactured," she says. "They differ in terms of hardness, cost, grain characteristic, color and other factors."
Budget
Style and budget are the main factors when it comes to choosing furniture, says Lehman. Pricing will be affected by the materials used in the manufacture, including wood and finish, construction techniques, solid wood versus veneer versus laminate, size and scale, embellishments like carvings, appliques, hardware and moldings.
Type of Wood
Softwoods come from cone-bearing trees, such as pine, cedar, cyprus, spruce, fir, and redwood. They have a more open grain, and they're typically less expensive than hardwoods. Because surfaces are generally softer than hardwoods, they require extra care to avoid dents and scratches.
Hardwoods are more durable than softwoods and are typically more expensive. These include cherry, maple, mahogany, oak, teak, and walnut.
Cherry, oak and tropical hardwoods including acacia and mango are among the most popular woods that Art Van Furniture sells, says Lehman.
Construction
Not all wooden furniture is constructed the same way. All-wood construction means the visible parts of the piece of furniture are made of wood. Combination wood indicates that more than one type of wood makes up the piece's visible parts. Solid means the piece was constructed from a solid piece of wood.
A popular construction method is veneer; a thin slice (about 1/28 inch) of wood is bonded to plywood or particleboard. While veneers are often thought of as being inferior to solid wood, they're commonly used on high-quality furniture as well as budget pieces. In fact, this method of construction has been used for centuries to create pieces of great beauty and strength, using the most beautiful part of the grain or arranging wood into patterns, such as checkerboard or diamond.
With proper care, wood furniture will last a long time. Do you have a favorite type of wood? Let us know in the comments below.
It's easy to feel down when it's cold outside and the sun has been MIA for days. But who wants to survive winter when you can thrive during winter. Here are three things you can do to kick the winter blues to the curb:
Brighten up your house. When the sun peeks out from the clouds, make sure you're letting it in by keeping your blinds and curtains open during the day. You can also brighten things up by using colorful throw pillows, a bold rug or energizing artwork.
Have a party. Instead of hibernating all winter, make plans with friends and get out. Invite people to your home or arrange an outing. The idea is to make plans to have fun.
Get some exercise. Head to a gym or simply take a walk around the block can help beat the blues. Physical exercise combats depression by triggering mood-enhancing endorphins.
Sleigh beds are elegant, offering classic, timeless style, but there's no need to invest a lot to have this look. One of these gorgeous beds is the Chloe Bed from Ethan Allen, which sells for $1894 for the queen size, and the other is the Philippe White Queen Bed from the Art Van Clearance Center, with a price of just $349.
Both have gorgeous curved lines, and both have a crisp white finish. Choose the Art Van version and you'll have more than $1,500 still in your bank account.
Can you guess which bed is the budget-friendly option? Click here to grab the better deal. We've got the look (for a lot less!)
Grey February skies can make you want to crawl back in bed, but there are some easy things you can do to beat the winter blues. Here are three solutions that will boost your spirits until spring arrives:
Go outside within two hours of waking up. We know it's cold, but a quick walk around the block will help perk you up and soak up what little sunlight is available.
Purchase a light box. In studies, light therapy helps 80% of all cases of seasonal affective disorder. Doctors recommend sitting near a light box for 30 minutes each morning to make up for the lack of sunlight during winter.
Take vitamin D supplements. Your body takes in Vitamin D from the sun, and it's common for your levels to be low during winter. One study found that vitamin D supplements produced mood improvements.
Got cabin fever? It's common, especially after the excitement of the holidays is over and you've stored away all of your festive décor. Instead of hibernating and waiting for spring, why not think like Scandinavians? There, winters are long and dark yet the people are among the most upbeat in the world, according to the World Happiness Report.
Here are seven design tips Scandinavians use to keep away winter blues:
1. Maximize natural light in the home. Scandinavian homes often feature white interiors and light surfaces that make the home look brighter. In your home, opt for glossy and polished surfaces. Also, add plenty of mirrors that reflect and increase the amount of light in a room.
2. Add some wood. Scandinavian homes balance the light walls with lots of natural wood. You can do this, too, using wood furniture and flooring. Wood also helps warm up the room.
3. Choose simple furniture. Scandinavian design focuses on simple and clean lines, and the result is a calm atmosphere and feeling of spaciousness. Look for modern pieces with mid-century inspiration to bring the same look to your home.
4. Use candles. On dark winter evenings, candles are an easy way to add warmth and ambiance. Use decorative candles around your home and light to create a magical atmosphere.
5. Cozy soft furnishings. While Scandinavian furniture is sleek, it isn't cold or uninviting. Dress your sofa with pillows and throws that bring a sense of relaxation, and add color to a neutral room.
6. Streamlined storage. Scandinavian style interiors feel spacious and airy, and that's because clutter is at bay. Use furniture that will help you put away things quickly and neatly. Then only display a few items that bring you joy.
7. A dining table for entertaining. Socializing is a big part of Scandinavian culture, so make sure you have a dining table and chairs that can accommodate friends and family. With a home that's designed to lift your spirits, you'll be eager to entertain.