Every room needs a focal point. A statement piece. A bit of eye candy. This is most often accomplished with a fireplace, a rug or a piece of art. But a statement can also be made sitting down … with a quirky chair.
Quirky chairs add a touch of the unexpected to any room. They're part function and part flair. And they're totally fun. What makes a chair quirky is open for interpretation. Here are a few characteristics to look for when adding a chair that stands out:
It's Colorful
In a room filled with neutrals, a brightly colored chair will command attention. Whether you choose solid or patterned, always choose vibrant. For example, the bold colors in the Caressa Rose Omega Striped Accent Chair liven up a living room or bedroom. You can tie it in to the décor by tossing coordinating pillows on your other pieces. Or let it sing a cappella.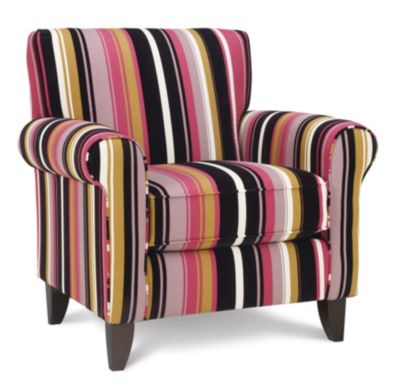 It's Patterned
Neutrals can be quirky when the pattern is full of attitude. For instance, the Conner Accent Chair steals the show with its modern take on an argyle-like design. Fun and bold, its basic color palette works well in a living or family room, adding a masculine flair.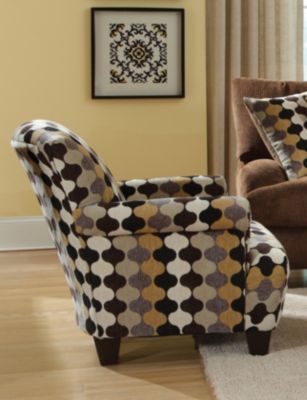 It's Unusually Shaped
Most chairs look like chairs. When you add a chair with an unusual shape, you add interest. Consider the two-toned Atlantic Swivel Chair: It looks like a lounge-y perch for cocktails or daydreams … or both. This chair swivels, so you can watch a ping-pong match or take in the 360-degree view.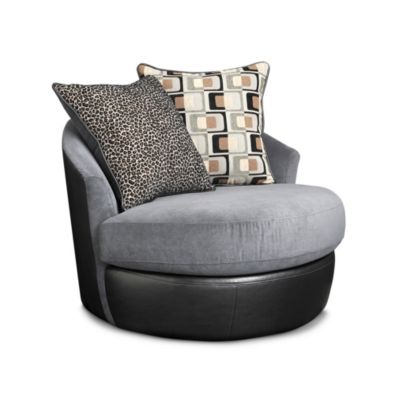 It's Surprising
High-back armchairs are very traditional. Cover them in a contemporary fabric and suddenly you've put a quirky twist on tradition. The Giselle Accent Chair fits the bill. Offering great seating comfort, it takes center stage with its bold, modern pattern in tones of taupe, ivory and grey.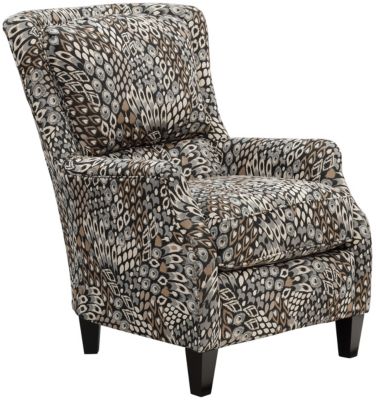 It's Dramatic
Sometimes designers like to raise eyebrows. They take an everyday piece of furniture and add drama, creating something that not only attracts attention but elicits remarks, as well. Certainly this was the intention behind the lines of the Darma Chair. Upholstered in two-toned leather, the contrast of colors only add to its powerful look.
Adding a chair that can stand up to its surroundings is an easy way to infuse personality to a room. Which quirky trait fits your design style best?