Beige can be beautiful. But a sea of beige … well, that can be boring!
We know that choosing a color palette for your home can be a little overwhelming, but we also know that Pantone's nine home color palettes for 2013 were designed to make the process simple and fun. And so we continue our series on this topic with Glamour, Pantone's collection of colors that convey "the polished sexiness of the Art Deco era."
The tones in this palette could be called moody. But they can also be called sophisticated. Reminiscent of the bygone days when elegance was a way of life, the Glamour palette is also current enough to provide a contemporary touch to today's modern home.  Colors have luxurious names like Rio Red, Monaco Blue, Tap Shoe, Chinchilla, Moon Mist, and Jasper, and glimmer is added with Silver and Champagne Beige.
You can easily add Glamour to the bedroom by selecting these items from Art Van Furniture.
First, start with a bed from the Meridian Black Collection. Simple and sleek in styling, the black lacquer finish sets the stage, and its silver metal legs give just the right touch of sparkle.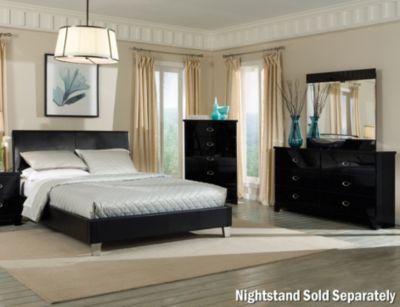 Top off the Meridian Black Collection bed with our City Balance comforter. The bold geometric pattern is very Art Deco, and the silver and black colors add drama. In cotton, it has a sheen that will reflect the light. Add color with accent pillows, choosing tones like Rio Red, Monaco Blue or Jasper, and add depth by selecting rich textures, such as velvet or felt.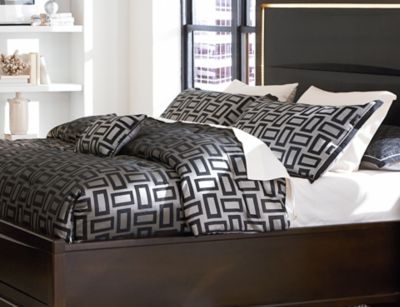 Next, you'll need a nightstand. Choose the selection from the Meridian Black Collection, or think outside the bedroom and select an interesting accent table. Here are three options that will look fabulous with the bed: the faux black crocodile, with silver legs that coordinate with the legs of the bed; the Orbit collection end table, with an oval base that will balance the geometric pattern of the comforter; or this round lamp table with Art Deco-inspired details.
Now it's time to top off your nightstand with some color. Our jade table lamp has a gourd-style base with a unique green finish modeled after the patina of copper. Or choose our red glazed ceramic gourd-style lamp.
Above the bed, hang this round mirror surrounded by mirrored circles. The lightness of the mirror will provide balance to the sophisticated colors and will reflect any light in the room.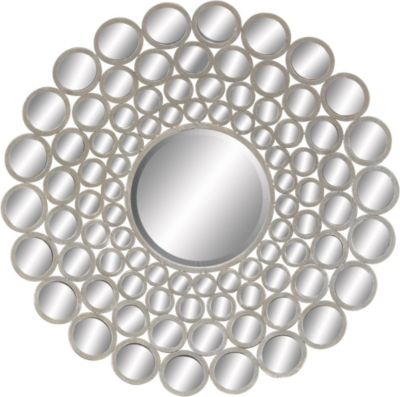 If you have space, add a chair to the room to create a cozy reading spot. Our ROMA Allegra Club Chair in leather is a good choice and comes in red or blue. Its smaller scale is perfect for a bedroom. Accessorize it with a pillow or throw in silver or champagne faux fur.
Finally, underfoot add a warm rug.  Here are two options for this color palette: The Regency Red Rug in 100% wool is dramatic in its deep tones, or our Bliss Beige Rug in soothing champagne will balance the dark colors of the room.
If the Glamour palette doesn't sing to you, stay tuned. Next up, we'll reveal the New Old School palette, which is more subdued and has a slightly military flair.