Just because you're short on space doesn't mean you have to be short on style. Furnishing a small room just takes consideration, planning and little editing. And at Art Van Furniture, we have some tricks up our sleeves that can help you make your cozy room feel more spacious:
First, think tall. In a kitchen or dining area, give the illusion of more room by choosing a gathering, or counter height, table. Measuring between 36" and 42" high, the extra height allows the eye to see more floor space and gives the area the illusion of having more room. We have several styles—from contemporary to casual, rustic and traditional—one is sure to fit your décor.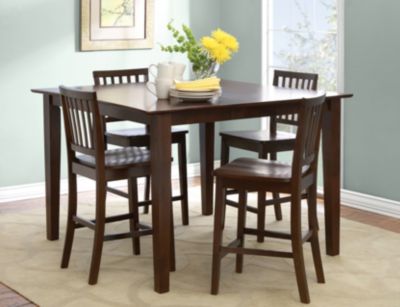 Use the same technique in a living or family room by choosing furnishings that allow the eye to see a portion of the floor beneath. Avoid skirted sofas and chairs, or those with low, bun legs; these will feel more grounded and space encompassing. Instead, choose a sofa or chair with short wood or metal legs in either a straight contemporary design or curved traditional flare. Also choose end and cocktail tables with longer legs, instead of a trunk style or a table with top to floor drawers or shelves. And finish the room by hanging window treatments at the ceiling level to draw eye upward.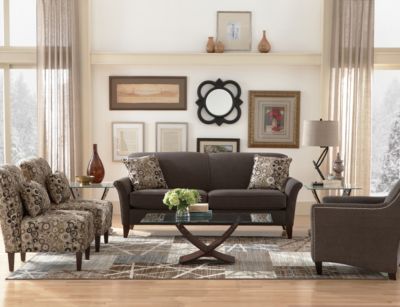 Look at scale. Oversized pieces can weigh down a room. Choose smaller furniture with uncluttered lines and fewer accessories. Armless chairs or sofas give an open feel. Avoid pillow-back furnishings; the extra cushioning makes the room feel "full." Instead, think simple and sleek. A perfect piece is a settee, which is a medium-sized sofa. Or choose a love seat. Either will take up less wall space but still provide adequate seating (and lounging) capabilities.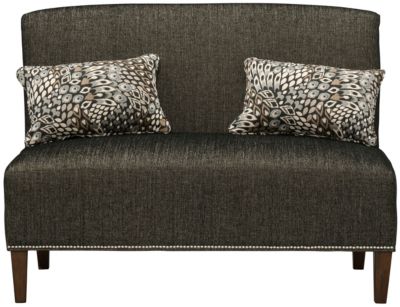 Streamline your items. Having fewer pieces in a small room is better. Don't fret if you love oversized furniture; you can get away with larger pieces if there are less of them. Or choose items that stack or expand. For example, nesting tables can easily accommodate guests when spread out. Also, edit what you bring in. Keep accent pieces to a minimum, and always contain clutter. Choose a storage ottoman that can hold blankets, games, newspapers or DVDs out of sight.
Choose a monochromatic color scheme. Too many colors in a room can make it feel choppy, stopping the eye several times instead of letting it glide across the space. Choose one or two colors to use throughout the room. Or choose subtle variations of the same color. The result will be a soothing palette that pleases the eye.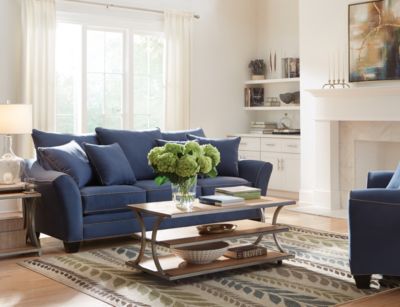 Finally, let in the light. Start at the windows by removing heavy draperies; use shades or blinds instead. Lighter paint colors can make a room feel larger. Or choose one wall as an accent wall and paint a deeper color there. Choose glass top or mirrored furnishings that will reflect the light. Add lighting at different levels. And hang a large mirror on the wall to give the illusion of more space.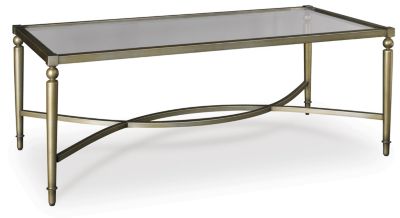 Voila! A small room with large possibilities.