Creating a room that reflects your distinct personal style is easy when you start with upholstered furniture. With hundreds of fabric options, you can create a customized look that's one-of-a-kind.
We've Got the Look sat down with Art Van Furniture Upholstery Buyer Sharon Gjertsen to get her expert tips and the latest scoop on the trends in upholstery. Here's what she had to say:
What should someone look for when purchasing an upholstered piece?
Once a guest determines they like a style, they need to be sure it is comfortable. Seating comfort is a very personal thing, and no one can judge whether or not a piece is comfortable other than the customer.  I always ask customers these three questions: How the furniture will be used? How many years are you expecting to have it?  And are you looking to make an investment? The answers help determine which piece is right for them.
What are the latest looks in upholstered furniture?
Neutral body fabrics are still very important.  And grey is a very popular neutral today.
You can update the piece by using colors and accents as the "jewelry" of a sofa or chair. This includes toss pillows or throws.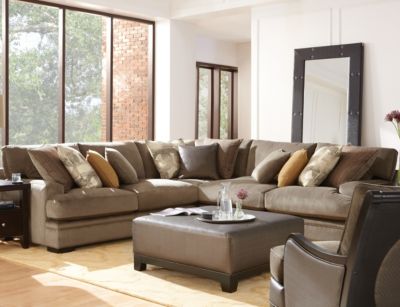 Are there guidelines to mixing patterns in a room?
The good news is that mixing and matching – the eclectic look – is IN! When considering mixing patterns, you want to be sure that you have different sized patterns.  In other words, a medium scale mixed with a large scale is better than two large-scaled patterns, which would compete with each other instead of work together.
How many choices does Art Van Furniture offer?
Endless.  We have sofas starting at $299 in our clearance center as well as premium construction eight-way hand-tied coil sofas for up to $1799. Many of these pieces are available for immediate delivery in stock fabrics and many can be customized with our line of upholstery choices.
What is the average time it takes to receive a custom order?
Average is 4 to 6 weeks.