It's the color of a storm rolling in. It's the tone in a pebble found at the edge of the lake. And it's the tint of a dove's wing. Moody, conservative or barely there, grey is the most neutral of neturals. It blends effortlessly with any color – which is probably why Native Americans use the color gray to symbolize friendship – and it's the perfect choice when shopping for new furnishings.
Contemporary, casual, traditional or rustic, there's a shade of grey for every style home, and at Art Van Furniture, we've got the look. Here are four of our favorite collections: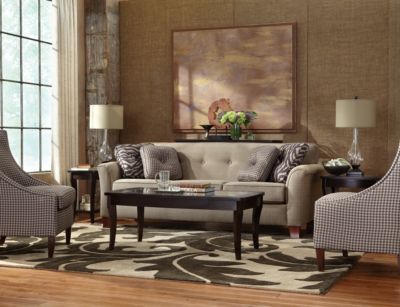 The rich and sophisticated tones of the Mila Style Collection create an inviting and upscale setting for your living room. The sofa has sharp features and flared arms, with a sleek button-tufted back. The neutral body fabric is contrasted with the bold patterns of its four toss pillows. The lines of the Mila Accent Chair complement the sofa, as does its classic small-scaled houndstooth pattern.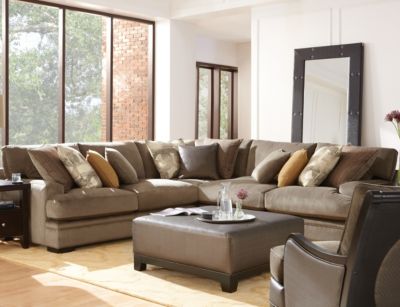 The understated Fontaine Collection by Cindy Crawford has the casual elegance of a silver charm bracelet. The neutral grey sectional serves as a strong base for the metallic mixture of toss pillows in patterns and solids. The deeper grey cocktail ottoman has a tone-on-tone pattern for interest and texture. And the accent chair completes the casual look of the room.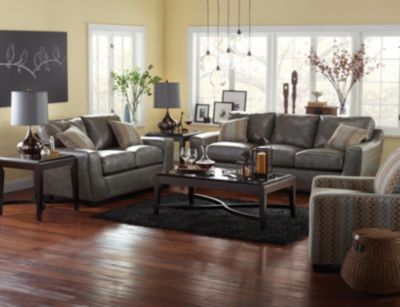 Comfort and style are the hallmarks of the Cantina Collection. In supple Quarry-colored leather, this easy-to-live-with collection will create the perfect setting for a relaxing Friday night with family or a riveting Sunday afternoon of spectator football. The fabric accent pillows, in a pattern called Loophole, give a modern touch to the casually rustic furnishings.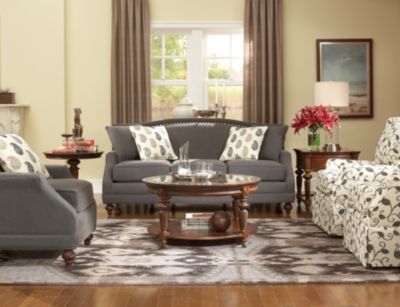 Traditional homes will welcome the classic feel of the Pewter Style Collection, which gets its name from the nailhead trim that adorns the charcoal grey fabric. The accent chairs have a vine design and light background, which serve as an elegant contrast to the deep grey tone of the sofa and loveseat.