Curios are intended to hold your collection of curiosities, but our Art Works Curios are interesting all on their own. As beautiful as whatever you put inside, take a look at these accent pieces that were inspired by three of the great artists.
The Klimt Art Works Curio is finished in antique gold with details inspired by Gustav Klimt's renowned "Tree of Life" painting. A gorgeous showcase for your holiday baubles, this piece will earn a place of honor in your home year round.
An Austrian artist, Klimt achieved fame during his "Golden Phase." He created "Tree of Life" in 1909 as part of a mural he painted for the Stoclet Palace in Belgium. This work is one of the most reproduced oil paintings in modern day. Admire it and you might come to know a piece of the artist.
Gustav said, "Whoever wants to know something about me – as an artist which alone is significant – they should look attentively at my pictures and there seek to recognise what I am and what I want."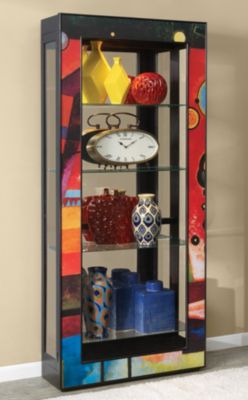 The Kandinsky Art Works Curio is finished in ebony and adorned with a multicolor essence of Wassily Kandinsky's celebrated "Heavy Red" painting. Stunning in its vibrant red with accents of turquoise, orange and plum, this piece will provide a unique setting for colorful collectibles.
Kandinsky was a Russian painter and art theorist; his abstract work followed years of intense thought and retrospect. You'll find this curio to have melody all its own; the artist described painting like writing music:
"Colour is the keyboard, the eyes are the harmonies, the soul is the piano with many strings. The artist is the hand that plays, touching one key or another, to cause vibrations in the soul."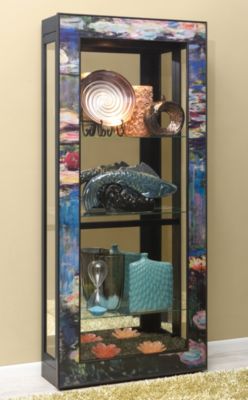 The Monet Art Works Curio is finished in ebony and accented with Claude Monet's famous "Water Lilies" painting. In Monet's signature Impressionist style, this soft-spoken piece will be a welcome addition to any home.
"Water Lilies" depicts Monet's flower garden at Giverny. In fact, Monet's gardens were the primary subject of his paintings during the last 30 years of his life. The French artist created a series of 250 water lily paintings, which are on display at museums all over the world.
We believe this piece will find a place in your heart. Monet said, "People discuss my art and pretend to understand as if it were necessary to understand, when it's simply necessary to love."