Holiday entertaining at home often includes an assortment of beverages – soft and not so soft. You'll feel like a guest at your own party when you set up a bar where friends can serve themselves. Here are some ideas for creating a libation station:
First, chose an out-of-the-way spot. This will make sure it doesn't disrupt the flow of the party. Be sure to create an area where more than one person can be pouring. Art Van Furniture's Demilune Wine Cabinet in black with a front glass panel is a great option. This piece also offers storage for extra bottles and stemware.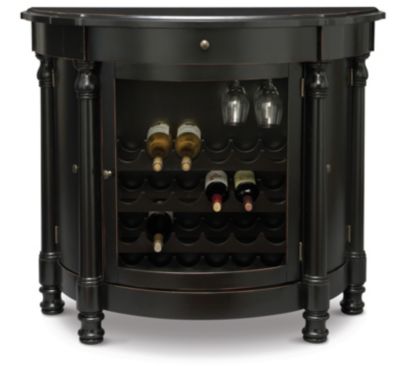 Next, stock it with the basics. You can make things easy by serving just soft drinks, beer and wine. Another option is to offer soft drinks, beer, wine and one special mixed drink. For a holiday-theme, choose a beverage such as eggnog, mulled wine or white cranberry "snowflake" martinis.
If you want to stock a full bar, consider bourbon, gin, rum, scotch, tequila, vermouth, vodka and whiskey. You'll also need orange juice, cranberry juice, ginger ale, tonic, club soda, lemons, limes and olives. And champagne is always a great option. These ingredients will cover the most common mixed drinks. You might also consider adding coffee liqueur or Irish crème. We've included a recipe for homemade Irish crème below. It's delicious and also makes a wonderful hostess present.
To know how much to purchase, check out this handy drink calculator.
Be sure your bar area has sufficient ice, cocktail napkins, one or two towels for spills, corkscrew, shaker, measuring glass and trash container. And you'll need an assortment of glassware. If you want to streamline things, just set out basic wine and old-fashioned glasses. If you want to do things right, offer champagne, red wine, white wine and highball glasses. Red wine glasses have a wider bowl, allowing more air to come in contact with the surface of the wine. White wine glasses have a U shape, which allows the aroma to be released.
All that's left is gathering your friends and enjoying the spirit – and spirits – of the season. And always remember to drink responsibly.
Homemade Irish Crème Whiskey
3 egg yolks
1 14-ounce can sweetened condensed milk
1 ¼ cups whipping cream
1 ½ cups whiskey
1 ½ tablespoon chocolate syrup
½ teaspoon coconut extract
In a large bowl, beat the egg yolks until they are thick. Stir in the remaining ingredients and beat for one minute. Pour Irish Crème Whiskey into a large decanter or bottle. Seal and store in refrigerator. Allow crème to sit for seven days before using. Keeps for two weeks.