With boyish good looks and charm, Michael J. Fox is certainly one of Hollywood's favorite actors. In fact, you might be glad to hear he's planning a return to the small screen next fall with a TV sitcom loosely based on his life with Parkinson's disease.
The Manhattan home he shares with his wife, actress Tracy Pollan, suits the man best known for his roles as Alex P. Keaton on Family Ties and Mike Flaherty on Spin City.
The couple recently challenged Manhattan-based Gomez Associates to redesign their Upper East Side apartment into a place where family – their family – comes first. The results were featured in the December 2012 issue of Architectural Digest.
According to the article, the idea behind the living room was that people not things would be the focal point. It features clean lines and modern furnishings, including blue-glass table lamps, a pair of sofas, piano and an early-20th-century Turkish Oushak carpet.
Of course, Art Van Furniture has the look. To recreate the feel of Michael J. Fox and Tracy Pollan's home, consider these pieces:
Start with a pair of our Kate Sofas. Its sleek, simple lines are a near match for the sofas used in the Fox/Pollan home. And its small scale makes using a pair instead of the typical sofa/love seat combination practical. The piece includes bolster pillows in grey, ivory and a light green, or you can swap them out for solid blue and taupe pillows used by the designers.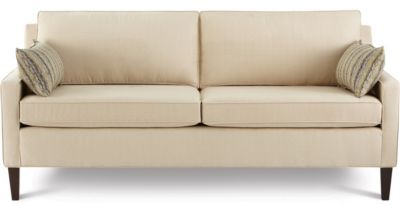 Next, you'll want to add a side chair. Our Birmingham Exposed Wood Chair is slightly different than the one used in our inspiration room, but the formal feel is very similar. Shown in a red and brown pattern, it's available in over 50 custom order fabrics, so you can choose ivory upholstery to closer match the sofas.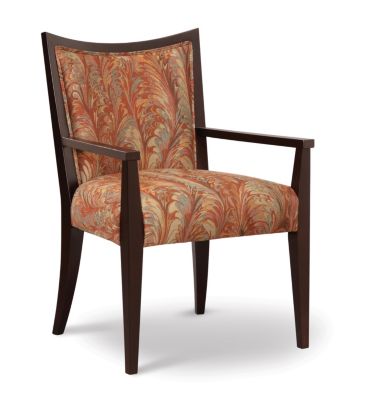 For a cocktail table, select our Urbana Round Cocktail Table. A transitional piece, it is the perfect bridge between the contemporary sofas and traditional side chair. The glass top gives a feel of openness, and the wood matches that of the side chair.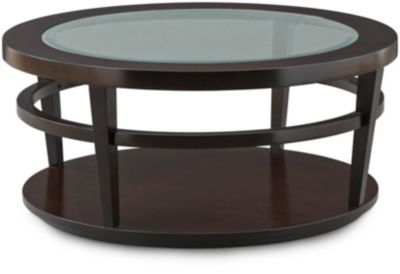 For an end table, we chose the Rectangular End Table for the Baker Collection. With a glass top, it allows light to reflect and move through it. And it coordinates well with the cocktail table.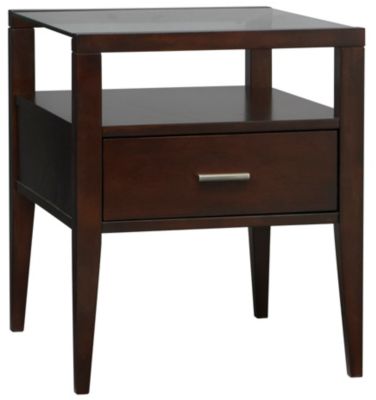 Now add a Sofa Table from our Lucca Collection. Notice how the warm spice wood finish is different from the deep cherry finish of the cocktail and side table? Using more than one wood finish in a room adds a layer of depth as well as interest.
Balance the Sofa Table by using a Server in a similar wood on the opposite side of the room. Normally used in a dining room, a server is a great option for a living room, offering concealed storage. Use it to hold blankets, board games or DVDs.
Add a couple of Kate Ottomans around the room for additional seating or for a footrest, and a large traditional rug underfoot. This Welbourne Sage Coffee rug has a beautiful blending of soft tones, and will anchor the room in sophistication.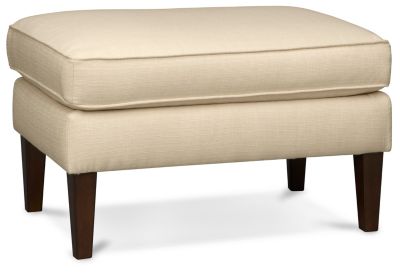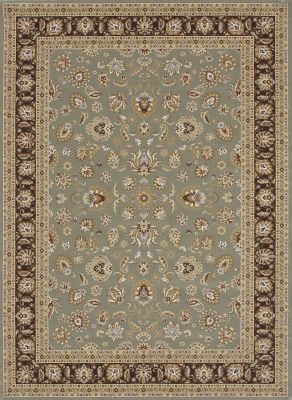 Finish the room with a pair of table lamps. The Fox/Pollan home has a pair of blue glass lamps. You can choose from our unique Bluesmoke Table Lamp with linen shade or a Contemporary Table Lamp with chrome accents and cracked glass base.