Actress Courteney Cox has one of the hottest careers in Hollywood, and she is probably best known for her role as Monica on the television show Friends. It should be no surprise then that her Malibu retreat looks like it was designed to welcome a crew of her favorite people.
In an interview with Elle Décor magazine, Cox says she originally wanted to be an architect. You can tell from the simple, clean lines of her family room furnishings – a style she calls "modern barn" – she let the bones of the California house stand out. In a palette of grey and white, two of the most current colors in home decor, Cox has created a casual yet sophisticated gathering spot.
Of course, Art Van Furniture has the look …
To mimic Cox's design in your home, start with a pair of our Stanford Side Chairs in a classic, neutral grey fabric that accentuates the crisply tailored lines. Then add the Stanford Sofa. Like the chairs, its boxed and welted cushions offer a sophisticated simplicity. By using matching pieces in the room, you create a soothing, uninterrupted look, and a solid foundation for modern style.
Cox added versatility to the room by adding ottomans. We offer two options to recreate this look. Choose a pair of Allegra ottomans in white leather, which can be easily moved around the room during a party or pulled up and used as a footrest. Or select the Enterprise Ottoman, an oversized piece in white leather with the added contemporary detail of chrome legs. Both ottomans offer a clean silhouette.
Next, add a cocktail table. The Modern Basics Round Cocktail is similar to the one in Cox's room, but has the benefit of nesting capabilities. The C-shaped table is portable and allows you to bring the table surface closer for more convenience. And its natural cream travertine top adds texture to the room. Be sure to accessorize the table with a splash of color. Cox uses a vase of bright yellow and green flowers, which add some warmth to the white and grey palette.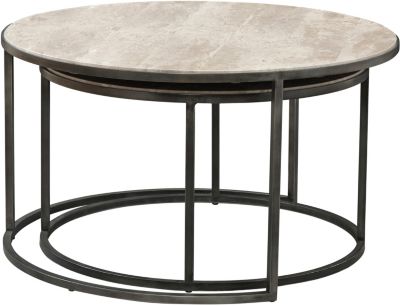 Cox creates the "barn" feel by adding a rustic, log-style side table. Consider adding our reclaimed wooden accent table in a distressed light brown finish for an unexpected element in your room.
Light up the room with our abstract floor lamp, which has a slim line metal base and cylindrical fabric shade. The modern lines of the lamp fit seamlessly in the room, and the curved detail provides a nice complement to the straight lines of the furnishings.

Finally, complete the room with our ivory rug from the Bliss Collection. The texture adds a layer of warmth to this modern living space … and creates the perfect spot for entertaining your friends.