Whether your home is a cottage in the woods or a two-story in the 'burbs, you'll find that a daybed is one of the most versatile pieces of furniture you can own. Part bed and part sofa, a daybed transforms a home office into a guest bedroom, creates a reading nook in a playroom, turns a child's room into sleepover central, and makes a teenager's room feel like a lounge.
And many come with optional trundles, so you can always welcome drop-in guests … or not.
Art Van Furniture offers several styles of daybeds. Here are three of our favorites: One for Papa Bear, one for Mama Bear and one that Baby Bear can eventually take to his studio apartment.
Masculine and Stately
Our Springfield Collection Daybed, upholstered in brown bi-cast leather, is the perfect piece for the home office. In fact, researchers say a mid-afternoon nap boosts productivity, so Papa Bear can conveniently take a nap after reviewing those honey production spreadsheets. The hidden trundle pulls out and easily turns the home office into an accommodating guest room.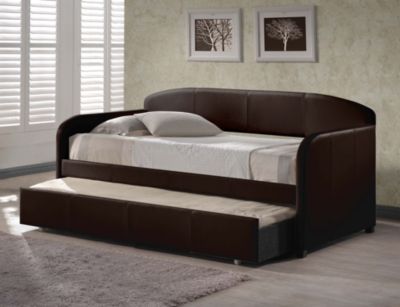 Soft but Chic
The Rose Collection Daybed is like adding a piece of art to a room. In fact, its design was inspired by the petals of a rose. This precious piece looks even better when you add pillows – lots of pillows – so Mama Bear will be snug and cozy when she peruses the latest issue of Redbook. Use it to create a reading nook in that extra bedroom. It's available in textured white or aged steel finish.
Just Right
Finally, the casual Augusta Collection Daybed is the right piece for any style home. Made in a classic bead-board design, its country cottage style comes in both black or white finishes. Use it in Baby Bear's nursery to offer a bedtime story area. Change the bedding to create a Teen Bear lair. And then send it off with him, when Baby Bear leaves the nest.