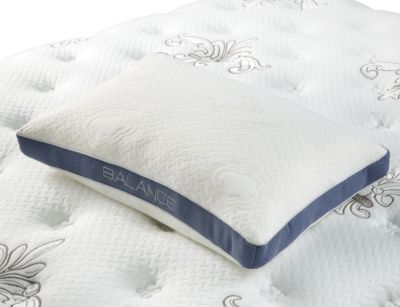 How'd you sleep last night? An estimated 70 million Americans complain of sleeplessness, and the culprit might be right under their noses … and their backs.
According to the American Chiropractic Association, mattresses should be replaced every 5 to 8 years to ensure proper support and comfort. A study published in the Journal of Chiropractic Medicine said that sleeping on a new mattress can significantly reduce stiffness and back pain. With about a third of your life spent in bed, a good night's sleep is an essential part of good health.
How old is your mattress? If you're not sure, it's probably time to replace it.
The right mattress needs to provide two things: proper support and proper pressure relief. Comfort isn't always an accurate indicator that the mattress you're lying on is providing both. Our PureSleep diagnostic machine takes out the guesswork and finds you the exact mattress you need – one that is comfortable when you are lying on it awake and one that will support you while you sleep.
We offer three basic types of mattresses: specialty, which includes foam, memory foam and gel memory foam beds; innerspring, which have the traditional coils, and hybrids, which are a combination of innerspring and foam. Within those three types, we have more than 100 mattress choices, and each does a specific job. Getting the right fit can help erase those sleepless nights.
Another essential element of good sleep is your pillow. Down, poly, foam or latex are all good choices for fill, but did you know yours is probably also filled with fungi, dead skin, dust mites and drool – all of which can aggravate allergies, asthma, sinusitis and respiratory disease?
Pillows act like sponges, collecting what we shed while we sleep. The National Institute of Environmental Health Sciences says that exposure to these allergens is a significant risk factor for the development of asthma and hay fever.
Not sure how old your pillow is? It's probably ready to be replaced, but take this quick test: Fold your pillow in half, squeeze and release it. If it doesn't spring back into form, it's time to get a new one. The editors of Prevention magazine suggest that you change your pillow once a year. If you use a protective pillow cover, they say you can double its life.
You'll get more time out of a good, quality pillow. The experts at the PureSleep Center inside Art Van Furniture give these general guidelines: fiber- or poly-filled pillows are usually good for 6 to 18 months depending on quality. Wool or goose down pillows will last for two to three years. And latex or memory foam pillows are good for up to 5 years, depending on quality. Always use a pillow protector to maintain and prolong the life of your pillow investment.
Remember: Good sleep is always in style.