Buying a hammock can be a perfect complement to your outdoor furniture collection. They're as comfortable as they are easy to maintain, and within a few minutes in one, it's quite possible that you'll quickly drift away into glorious slumber.
The hammock—be it the type that hangs between two trees or one that comes with a prefabricated stand for stability—is essential for warm weather comfort. Swaying toward Nap Land on a breezy Saturday is just one of the hammock's calling cards.
Here are four different hammock styles:
Standard Double Hammock
Secured normally between two trees or posts, the standard double hammock comes in a variety of materials – from canvas to mesh to rope. Try to select an area with plenty of shade (unless you're working on a tan) avoid setting it up where it is too high from or too low to the ground.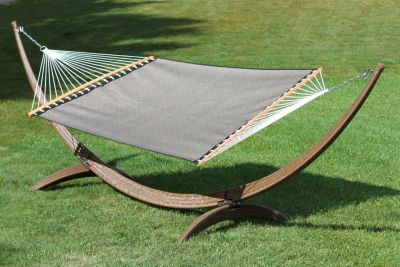 Hammock with Stand
If you're light on secured posts or trees, many hammock models come with prefabricated stands, usually constructed of steel. In many cases, they are also built from waterproof wood, like bamboo. Art Van carries a variety of this style. These hammocks can set up on a deck, patio, porch – you name it.
Brazilian Hammock
Generally longer and wider in its dimensions, Brazilian-style hammocks allow those in repose to lie diagonally or in some cases, east-to-west (as opposed to the typical north-to-south position) across the middle of the hammock. The greater length and width, allows for users to establish a deep sag in the middle.
Cocoon Hammock
Sometimes referred to as hanging chairs or hanging teepees, cocoons have a teardrop design. Aside from the entry point, cocoon hammocks have fabric walls akin to a tent. You can climb in and chill, while being shielded from the elements yet still able to feel the breeze and listen to nature. They can accommodate a single person, or a small family.
Now that you know your options for buying a hammock, which is your favorite?